MPS512 Multiplying Encoder ASIC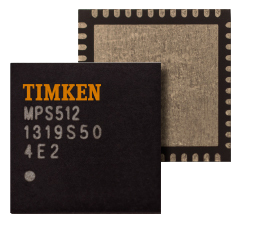 Compact. Fast. Smart.
The latest addition to Timken® magnetic encoder products, the MPS512 Multiplying Encoder ASIC offers a compact design combined with magnetic technology that easily functions without any light or line-of-sight.
This encoder is the next generation after our MPS160 and is capable of running at the highest shaft speeds, making it optimal for higher resolution and speed application.
How it Works
The MPS512 features on-chip Hall Effect sensors and processing that provide optical encoder resolutions with quadrature feedback in the off-axis magnetic encoder package.
The MPS512 is durable, withstanding extreme temperatures, high levels of shock and vibration. It also tolerates interference from stray magnetic fields.
Differential outputs for the quadrature and index signals are available, saving the cost of additional line drivers.
The encoder ASIC offers flexibility for motor control circuitry in its ability to interface with external Hall sensors for commutation. When the external commutation Hall devices are routed through the encoder ASIC the absolute position of the motor over a motor phase is available through the encoder's SSI/SPI interface. The ASIC provides quadrature signals at speeds up to 2.4MHz/channel (9.6MHz data rate) and offers a low power mode operation.
Buy now or contact us with questions.
Back to Product Listing