M9 Miniature Modular Magnetic Encoder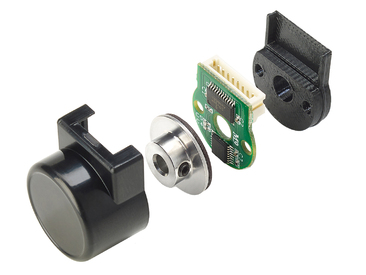 Small. Reliable. Economical.
The Timken M9 Miniature Modular Magnetic Encoder is the smallest off-axis modular magnetic encoder on the market. It offers reliable performance at an economical price with resolutions up to 1000 PPR (previously, optical encoders were the only choice for this resolution).
Its patented magnetic technology provides operational advantages over conventional optical encoders in high-temperature, shock and vibration environments.
How it Works
The M9 encoder handles a wider range of shaft end play and run out, and offers superior reliability in dusty, dirty or high heat environments. This tiny modular encoder is available in a range of resolutions. It offers line driver, or open collector quadrature outputs, and includes a gated reference pulse option, where most optical encoders of this size do not offer this feature
Why Choose the M9?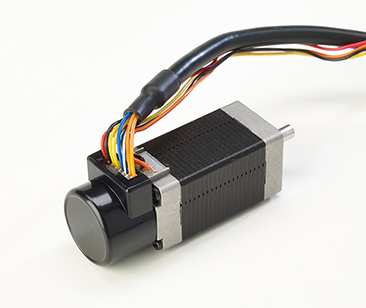 Installation of the hub is quick and easy with the M9's air gap tolerance. The M9 also includes electromagnetic interference (EMI) protection circuitry and a patented differential magnetic sensor circuit design that protects it from interfering magnetic fields. Its 800 KHz data rate allows up to 12,000 RPM at 1000 PPR and 20,000 RPM at 500 PPR.
The 0.9 inch diameter modular unit is ideal for microstepping small stepper motors or for small, high speed servomotors. Off-axis technology provides accuracy not available in on-axis magnetic encoders.
Key features include:
Resolutions
100, 125, 128, 180, 200, 250, 256, 360, 400, 500, 512, 640, 720, 800, 1000
Output:
Two channels in quadrature with gated index
Open Collector
Line Driver (26C31)200 KHz (800 KHz data rate)
Bore Sizes: 0.125", 1.5mm, 2mm, 3mm, 4mm, 5mm
Temperature:
-40⁰C to 125⁰C Open Collector
-40⁰C to 85⁰C Line Driver
-40⁰C to 125⁰C High Temperature Line Driver
Electrical:
Supply Voltage: 5VDC +/- 10%
Current Requirements: 39mA
The Timken M9 encoder is available for OEM applications. Contact us with questions.
‡ Additional line counts available, consult factory
Back to Product Listing