M15H High Resolution Modular Magnetic Encoder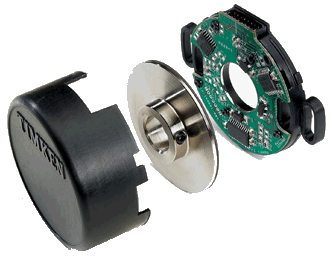 Taking the Standard to New Heights
The Timken M15H High Resolution Modular Magnetic Encoder takes the standard M15 encoder resolution to new heights. It offers reliable performance at an economical price with resolutions up to 8192 PPR/15 Bit, making this encoder a superior alternative to optical encoders.
Its patented magnetic technology provides operational advantages in high-temperature, shock and vibration environments, high speed applications.
How it Works

The M15H encoder handles a wider range of shaft end play and run out than modular optical encoders and offers more reliability in particulate-laden environments. This encoder is available in a range of resolutions with 0/4/6/8/10/12 pole commutation and reference pulse options.
The magnetic target is marked for shaft positioning alignment. Plus, air gap tolerance makes installation of the hub quick and easy.
Why Choose the M15H?

The M15H includes electromagnetic interference (EMI) protection circuitry. Unlike other magnetic encoders, a patented differential magnetic sensor circuit design protects it from interfering magnetic fields. The modular unit is well suited for a range of applications including brush type servomotor positioning and brushless type servomotor control using the commutation options.
Key improvements include:
Higher Resolution‡: 2500, 3200, 4000, 4096, 5000, 6400, 8192
Higher Data Rate: 2.4 MHz/channel (9.6 MHz combined)
Refer to the M15 for all other mechanical, electrical and environmental features.
The M15H is available for OEM applications. Buy now or contact us for solutions.
‡ Additional line counts available, consult factory
Back to Product Listing