THS 25 Industrial Package Encoder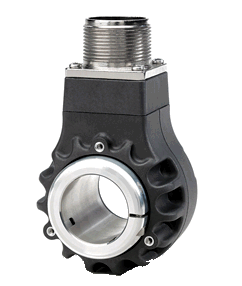 Reliable & Rugged with a Range of Resolutions
The THS25 high-resolution, magnetic hollow shaft incremental encoder offers reliable performance at an economical price.
Its patented technology, available in a range of resolutions, provides increased performance over standard optical encoders in high shock and vibration environments. The design handles shaft size ranges normally found in 2.5 and 3.5 inch hollow-shaft designs.
How it Works
Both inch and metric shafts from 0.25 inch (6mm) to 1.125 inch (28mm) are accommodated by using insulating inserts for smaller diameter shafts. EMI circuitry provides protection from high-frequency electrical noise.
The patented magnetic circuit design eliminates interference from background magnetic fields. The 2-inch deep, low profile design is well suited for a wide range of applications, including motor feedback and vector control, robotics, web processing, and printing.
The mechanical design comes standard in an IP50 package in a rugged polymer housing with IP66 as an available option.
Buy now or contact us to learn more.
Back to Product Listing