49MM High Resolution Absolute Position Magnetic Encoder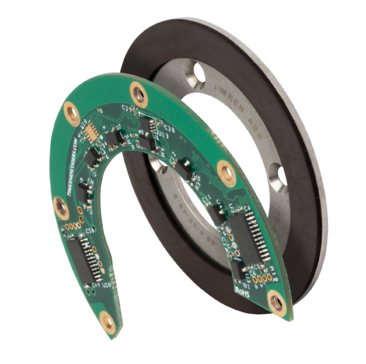 TAKING THE STANDARD TO NEW HEIGHTS
The Timken 49 MM DUAL ABSOLUTE POSITION MAGNETIC ENCODER takes the magnetic encoder resolution to new heights. It offers reliable performance at an economical price with resolutions up to 19 Bits, making this encoder a superior alternative other absolute position technology. Its patented dual sensor technology provides high accuracy in high-temperature, shock and vibration environments, high data speed applications without the need for calibration.
HOW IT WORKS
We compensate for target-to-chip misalignment with our dual sensor design. The encoder's dual configuration has two opposing sensor chips (patent pending). The sensor chips combine and average signals for greater accuracy and reliability. With a high electrical noise immunity, the encoder can be placed in areas with potential electric and magnetic bias fields.
WHY CHOOSE THE 49 MM DUAL ABS?
The 49 MM DUAL ABSOLUTE POSITION MAGNETIC ENCODER includes electromagnetic interference (EMI) protection circuitry. Unlike other magnetic encoders, a patented differential magnetic sensor circuit design protects it from interfering magnetic fields. The kit type encoder is well suited for a range of applications including frameless type servomotor positioning, cobots and other robotic applications.
FLEXIBLE DESIGN
The encoder's higher mechanical tolerance and wider air gap makes it the right fit for compact joints. By making the design flexible, and increasing the encoder's mechanical tolerance, the product can operate with precision through an extended lifecycle
ROBOTIC JOINT INCREMENTAL ENCODER APPLICATIONS
Robotic Joint Applications include the use of an incremental input side encoder. These encoders are hollow shaft design for use on the joint hollow shaft motor. Refer to the DOCUMENTS AND DOWNLOADS section on this page for additional details.
Back to Product Listing